It's estimated that 45% of the UK population now have a pet with the majority choosing to have a dog. This figure has increased by 5% since 2016 alone!  It is becoming more and more common for businesses/office blocks to allow dogs into the workplace, particularly in Manchester city centre, which is great news for dog owners! With initiatives such as 'Bring your dog to work day' and 'Petworking' events in Manchester earlier this year, it was great to see so many companies encouraging their staff to bring their dog with them to work! But what are the benefits of having a furry friend in your workplace?
Reduce stress
It's pretty much impossible to be stressed when those puppy eyes are staring back at you and you can't be in a bad mood when your furry friend is around, never failing to put a smile on your face, even when you might be having a bad day!
Brings the team together
Having a dog at work encourages the team to communicate and bond more with each other, bringing colleagues together to have conversations with each other when they may usually like to keep themselves to themselves. It's amazing who you get talking to when you've got your dog with you and you get talking with people you might ordinarily never have spoken with before!
Encourages team/employees to take a break
This one's pretty obvious and it goes without saying, having your dog will encourage you to take a break when you usually might eat your lunch at your desk and not move from your seat all day! Having your dog with you forces you to get out in the fresh air and take a break, coming back to your work with a clear head and a fresh look on things!
Increased productivity
Research has shown that taking regular short breaks from your work can increase productivity, giving you some much-needed headspace and you're able to come back to your work feeling more focused and engaged.
Pets don't have to be left at home
Dogs love to be around people and love interaction, so not only does it benefit you, it benefits them too! You get peace of mind that they're not left at home all day on their own and helping save your hard earned pennies in not having to pay someone else to look after them! Happy days!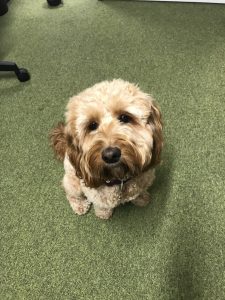 Here is my dog, Betty, an 18-month Cockapoo who is the resident 'office dog' here at R&D, I know that whenever I bring her in, she lifts everyone's mood and never fails to put a smile on everyone's face! She's changed my life and being able to bring her to work with me is such a bonus – she loves coming in with me and loves to keep everyone company with her cheeky ways! With so many more places now becoming dog-friendly, if you work in an office, would you consider taking your dog to work with you?
Here sh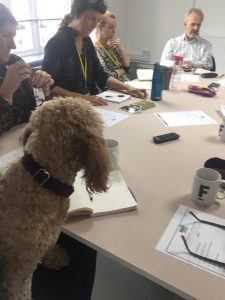 e is making those all important contributions to our meetings!