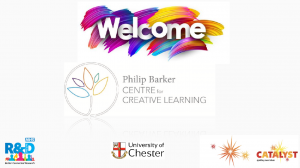 The Philip Barker Centre for Creative Learning (University of Chester) got in touch with us to discuss developing a Virtual Open Space Event in September 2020.
We're pleased to say, that after months of planning the event went ahead on 11th September with great success!
This online Catalyst event was developed as a collaboration between the Philip Barker Centre for Creative Learning at the University of Chester, Rose Bruford College, Brighter Sound, Open Eye Gallery and Orchestras Live.
The event was an opportunity to gather together people with diverse experiences, who are also working within the culture and higher education sectors, to consider how these sectors and how we as a society view, value, prepare and support artists working in community-based practice and what might the role of artists be in 21st Century society. The day itself was documented and the following can be found below if you want to catch up on what was discussed!
The summary report of the day can be found here 
The Google Jamboard for the day can be found here