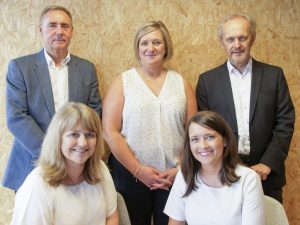 We are a core team of five, working with an extensive faculty of associates to deliver our programmes of work. You can meet each of our core team members below:
Dr Stuart Eglin

Chief Executive
stuart.eglin@researchnorthwest.nhs.uk
Stuart established NHS R&D North West in April 2013, having previously been Regional Director of R&D for the North West. His focus is the development of career pathways for Early Career Researchers, mixed methods approaches to personal development, and innovative techniques to create new research ideas. He was the Co-founder and Co-Chair of the North West People in Research Forum, from 2011-2018.
He has also been an External Advisor on evaluation to the NHS Institute for Innovation & Improvement and to Macmillan Cancer Support. In addition to this, Stuart also works as an Executive Coach working with leaders from the front-line to the Boardroom. He has worked with dozens of organisations and delivered over 1000 hours of coaching. He is also the author of the 2017 book "Values Count: believing in what we do" and the forthcoming book "Insight Coaching: from values to action".
Stuart spent two years working as National Head of Evaluation for the NHS Modernisation Agency. Prior to that he worked in the NHS Regional Office for eight years and was Regional Head of R&D for the North West.
He has worked extensively on patient and public involvement and was Chair of the Strategic Alliances Working Group of INVOLVE for seven years.
He has worked in various roles throughout the Health Service, including a couple of years in Primary Care in the Wirral and a year at the Royal Liverpool University Hospitals. He began his career in the voluntary/charitable sector as a Community Arts Worker and later as Manager of a Disability Organisation.
Stuart has a PhD in organisational change from Manchester Business School in which he studied the psychological aspects of change within organisations in the NHS, focusing particularly on applications of Jungian and Archetypal Psychology. He has previously held honorary appointments with the University of Manchester, Lancaster University, Liverpool John Moores University and University of Liverpool.
Professor Gillian Southgate

Director of Collaboration & Communications
gillian.southgate@researchnorthwest.nhs.uk
Gillian is an innovative and creative leader specialising in blending the arts and science together to create spaces for a culture of research and innovation to thrive.
Gillian qualified as an Occupational Therapist in the early 1990s working in the UK and the USA in the statutory, private and third sectors. Gillian was a strong supporter of a biopsychosocial model to promote health and developed a number of innovative programmes for people with long term health conditions.
Gillian has also worked as an independent practitioner and ran a non-profit making organisation for several years.
Gillian moved into the field of health research and development in 2012 when working temporarily for the NW Strategic Health Authority and then took on more permanent role with NHS Research and Development North West (NHW R&D NW) in 2013.
In her current role as Director of Collaboration and Communication for NHS R&D NW, Gillian is concerned with how to enable individuals, groups and organisations to come together to develop networks and communities of practice that create the right culture for health and social care research to develop and flourish.  She is an ambassador for the use of the creative arts and novel ways of supporting people to embrace a research culture and to help early career researchers reach their potential.
Gillian has an MSc from the University of Salford and is currently studying for a Professional Doctorate looking at Evidence Based Practice in Allied Health Professions. Gillian is a visiting Professor at the school of Health, Psychology and Social Care at Manchester Metropolitan University and is also a Fellow of the Royal Society of Arts.
Professor Bill Campbell

Director of Capacity Development
bill.campbell@researchnorthwest.nhs.uk
Bill has over 30 years' teaching and research experience within higher education. His most recent post was Associate Dean in the Faculty of Health, Psychology and Social Care at Manchester Metropolitan University (MMU) where he had responsibility for the development of research capability and capacity. He has been Head of three academic departments at MMU, all of which were concerned with the education and training of health and social care professionals, including the NHS sponsored community health, CPD and postgraduate portfolio. Bill has a strong and enduring commitment to health and social care research. He has both a Masters degree by research and a PhD in social psychology from Manchester University and has supervised to completion many PhD studies into various aspects of health and wellbeing. As Chair of the Faculty Academic Ethics and Research Degrees Committees at MMU, he has played a significant role in the development of research activity over a number of years. Bill left his substantive post at MMU in 2013 and returned as a Visiting Senior Fellow essentially to facilitate the development of doctoral education both within the faculty and across the university. This was primarily concerned with staff development but he has continued to supervise research degree students. He has recently been awarded a Visiting Professorship to further this and other research activity. 
Jo-Anne Simpson

Operations Manager & Senior Programme Lead
joanne.simpson@researchnorthwest.nhs.uk
Jo-Anne trained at Accrington & Rossendale College and started her career in the NHS in December 1991 as a Personal Secretary for the District Dental Officer at Bury Health Authority. From there she worked her way up through the administration department to take up the role as Information Officer at Rochdale Health Authority. In 2000 Jo-Anne left the NHS to work as an Office Manager for a construction company contracting directly to British Telecommunications where she was responsible for the general running of the company, it was from this position that Jo-Anne gained her managerial and project administration experience. Jo-Anne undertook further project administration work with BT until February 2013 when she returned to the NHS as Operations Manager and Executive Assistant in the NHS R&D North West Team.  Jo-Anne has recently completed the Mary Seacole six month leadership programme with the NHS Leadership Academy. 
Leanne Gregory

Project Administrator
Leanne.gregory@researchnorthwest.nhs.uk
Leanne joined the team after relocating from Leicester in 2013. Previously she worked as a Contracts Co-ordinator for a refurbishment contractor working alongside the Directors and prior to that she worked as a Sales Admin Assistant. Leanne was keen to join the NHS and take up the role of Project Administrator for the NHS R&D North West team.