Here's what I have discovered recently:-
Put 6 people from 6 different countries in a room in Portugal and ask them to prepare and complete a joint project and within a matter of 2 hours you have a functioning and cohesive community of practice.
Last Friday I went to Lisbon to a meeting of all the HOPE participants in Portugal. In total there were 6 of us and my co-participants came from Poland, Latvia, Sweden, Spain and France. The common language was English but not everyone was fluent so we got by with Spinglish, Franglais and the odd Russian word I remembered from cold war films and helped along massively, of course, by Google Translate.
We bonded immediately and there was no hierarchy, although some had very senior director posts and others were clinical and middle managers in their home countries. We had been asked to prepare a group presentation for the final conference in Dublin on 14th June where all the HOPE participants will give a 15-minute presentation on what they have found most innovative about the healthcare system in their host country.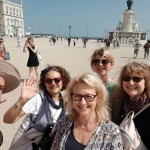 Obviously, what is seen as innovative Portuguese practice for some is not necessarily innovative for others but we managed to find common ground and are determined to present something creative and imaginative that will impress our Dublin audience.
I know that innovation is important for the future of health care and I have talked a lot about tele-medicine and digital innovations over recent days but I am also interested in the Portuguese culture and how this impacts the quality of care. I have spent the last week observing clinicians and managers alike relating to each other in warm, supportive and encouraging ways. I have seen senior managers stopping to direct patients to the right department and I have personally met nothing but a warm welcome. I know that people are on their best behaviour when they have visitors but I have toured whole departments and can see that this is just the way they are, not just a show for a visitor.
I have glimpsed a community of people that seem to genuinely care about each other and their patients and to be honest I hope that we don't lose these caring communities in healthcare in the quest for improvement and innovation.