Individuals – The individual researcher journey
Dr Karen Kemp – sits behind the Director of Nursing Fellow Road Map, NIHR 70@70 Senior Nurse Research leader at Manchester University NHS Foundation Trust.
From a background in intensive care nursing, Karen joined CMFT in Jan 1998 as part of the gastroenterology team. Karen was one of the first nurses in the UK to be awarded a prestigious NIHR Fellowship to undertake a PhD developing a follow up care model for patients with IBD. Karen now holds a joint appointment between the University of Manchester and Manchester Royal Infirmary, 2 days per week clinical and 3 days per week lecturer / research into IBD. Professionally, Karen represents IBD at the Gastrointestinal Forum within the Royal College of Nursing (RCN) and feeds directly into the RCN IBD UK Nurse Network. Karen sits on the National IBD Audit and Biologics Implementation Group and is a member of the Nurses European Crohns and Colitis Organisation committee (N-ECCO). Listen to her journey into research.
Clinical Research Practitioners – CRPs are working in research delivery roles that involve direct contact with patients or other study participants. CRPs are now identified as an occupational group in health and care in the UK by the UK Professional Standards Authority (PSA). The PSA is the body that sets the standards for accredited registers of people who work in health and social care.  In April 2020, accredited registration for CRPs was approved by the PSA as part of the Academy for Healthcare Science (AHCS) Accredited Register.  See the journey into research of 5 CRPs in our region by joining Maya, Sue, Phoebe, Becky and Kathryn to see their experiences.
Dr Suzanne Ackerley, Research Fellow of the University of Central Lancashire (UCLAN) shares her research journey with you on the film below.  Suzanne is a physiotherapist originally from New Zealand and her specialisms include stroke rehabilitation and neurorehabilitation.  Her insight into the researcher's experience is inspirational and inspiring and will help you navigate the research landscape in health and care research.
There are a number of organisations and institutions who lead and support the development of health and care researchers across the United Kingdome and in our Region. If you are thinking about becoming a health and care researcher or want to know more about how to get involved in research, click on any of the links below.
Integrated Care Systems
Created on 1st July 2022, Integrated Care Systems (ICSs) are partnerships that bring together the health and care organisations in a particular local area, to improve population health and healthcare, tackle unequal outcomes and access, enhance productivity and value for money and help the NHS to support broader social and economic development. Find out more here.
The King's Fund has produced a short film that explains what Integrated Care Systems do. Click here to view.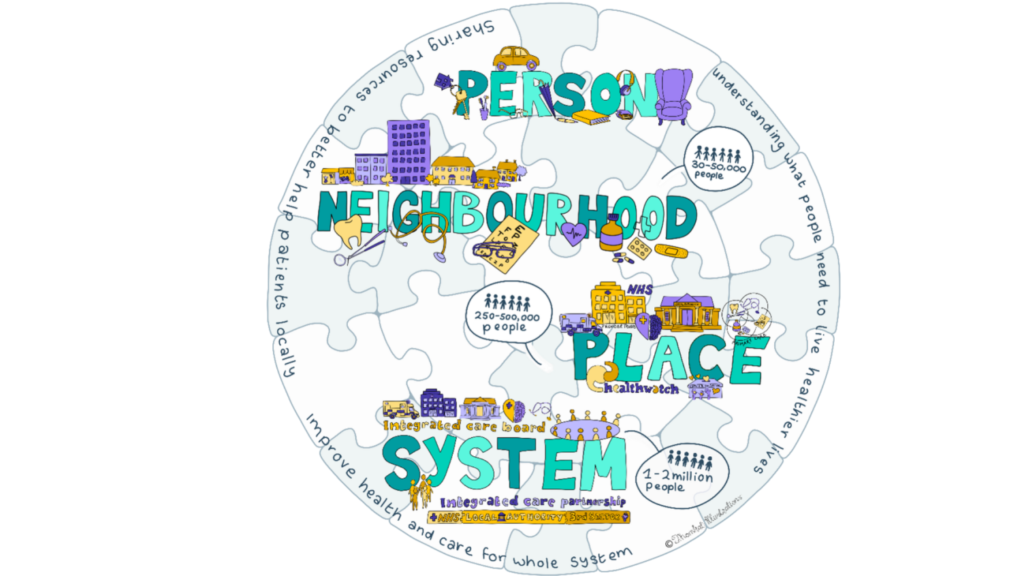 National Research Strategy for Nursing and Midwifery

Ms May said the plan "sets a policy framework for developing and investing in research activity across the NHS in partnership with others".
"At its heart is the shared ambition to create a people-centred research environment that empowers nurses to lead, participate in and deliver research, where research is fully embedded in practice and professional decision-making, for public benefit".
The plan is underpinned by five themes: aligning nurse-led research with the public need; releasing nurses' research potential; building the best research system; developing future nurse leaders of research; and creating a digitally-enabled practice environment that supports nursing research.
Allied Health Professions' Research and Innovation Strategy for England
The scope of the Strategy addresses four domains. Each of these aspects are inter-dependent and are all equally important to achieve transformational impact and sustainable change.
Capacity and engagement of the AHP workforce community, to implement research into practice;
Capability for individuals to undertake and achieve excellence in research and innovation activities, roles, careers and leadership;
Context for AHPs to have equitable access to sustainable support, infrastructures and investment;
Culture for AHP perceptions and expectations of professional identities and roles that "research is everybody's business".
The Strategy comprises three vision statements which express a clear intention to accelerate the pace of transformational change. Each of the vision statements is presented in terms of a bold strategic aim, with a number of related strategic objectives. These have been purposefully crafted to be measurable within the framework of appropriate evaluation approaches for quality and impact that have been developed within the scope of this work. To read more about the Strategy click here.