Are you tired of powerpoint and ready for something more creative and exciting?
Do you want your presentation to stand out from the crowd and make a real impact? 
Do you want to be able to communicate better with patients and the public?
This is a fantastic opportunity to learn how to make short animation films and comic strips to enable effective communication and really develop your message to a wide audience!
NHS R&D North West are offering you an opportunity to enhance your research experience with experienced artists and animators!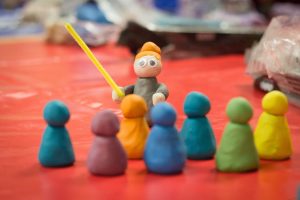 Use Animation and Comic Strips to create stories in a more fun and exciting way to enable you to get your research message out there in a more creative way!!
To find out how animation and comic strips can transform your communications and increase the impact of your message, contact Leanne Gregory.
The day includes:
Games and activities to introduce animation.
Working together to create scenery, characters, and events. What will your characters say? What will they do?
Looking at photography, thinking about composition, and setting the scene.
How can you tell a story in a few pictures?
Simplifying information to create something engaging and accessible.
These skills can be transferred to research, presentations, interview techniques, and explaining ideas in a fun and engaging way.