Mention the term social media to people in the NHS and you will get a mixed response. Many are afraid to use it, some are not allowed to use it and a few think it is fabulous and are growing their Twitter followers by the day.
One thing is clear though, you have to be in it to win it…. in other words you have to engage with social media for it to be of real value to health and social care professionals and researchers.  Lurking on the side lines might provide some interesting gossip or a link to some great websites and professional updates but the real value is in the networking and membership of virtual communities.  Once upon a time, people had lunch breaks and protected learning time and funded CPD to go off and connect with colleagues, meet real people face to face and spend time with communities of practice to become the best health care practitioner possible. However the reality is that today a lunch break is often a luxury and funded CPD inconsistent. So where best to turn when short of time, space and money for community support updates and information? —- social media of course!
Twitter, LinkedIn, Facebook, WhatsApp, ResearchGate, and many others, all provide the opportunity to join virtual communities of practice to find out information quickly, join discussions on hot topics and keep up to date on a daily basis in as little as 5-10 minutes. If you need inspiration, want to inspire others, need some quick advice or want to share an important message it can all be done through social media. If you steer clear of social media because you don't quite know where to start then check out some of the free courses on how to get started with NHS R&D NW. If you are unsure of your organisation's stance on the use of social media check out their social media policy and if you are just too timid to join in and speak out then take a risk and just do it.
If your manager says you shouldn't be looking at social media at work I would question how can you work well without it!!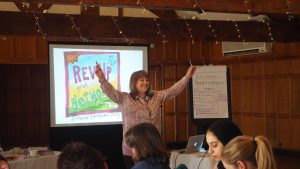 – Professor Gillian Southgate